You Can't Be Safe If You're Not Secure
As machines become more autonomous, more mobile, and more connected, they pose new challenges for safety and security. The FORT Platform addresses these challenges with a safety and security solution designed specifically for autonomous machines. The platform empowers builders and users of smart machines to reduce risk and accelerate productivity without sacrificing peace of mind.

FORT MANAGER
FORT Manager software makes it simple to configure and update your system. Easily map safety inputs and outputs with no coding required.
FORT Remote Control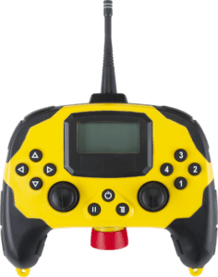 The FORT Remote Control (FRC) is an easy-to-use remote with built-in emergency stop. Use with one or more machines without compromising safety.
Reduce Risk, Mitigate Threats, and Maintain Control
Accelerate Deployment

FORT solves the complexity of safety and security for you, so your machines are ready to scale without delays.

Mitigate attack threats

Every connected machine opens the door to another attack vector. FORT hardware comes with embedded security with zero-trust communications.
Reduce Liability

Best-in-class wireless emergency stop helps prevent accidents, injuries to workers, and damage to assets.

Scalable and Flexible

The FORT Platform is designed to integrate at any stage of development. Flexible configurations enable you to expand and grow your system as needed.
DOWNLOAD THE PLATFORM OVERVIEW