Industrial Wireless Safety Device
The FORT Vehicle Safety Controller (VSC) is a wireless safety device for autonomous systems, mobile heavy equipment, and fixed machinery. For applications where wired connections are expensive, dangerous, or impractical, the VSC provides a safe and reliable wireless solution.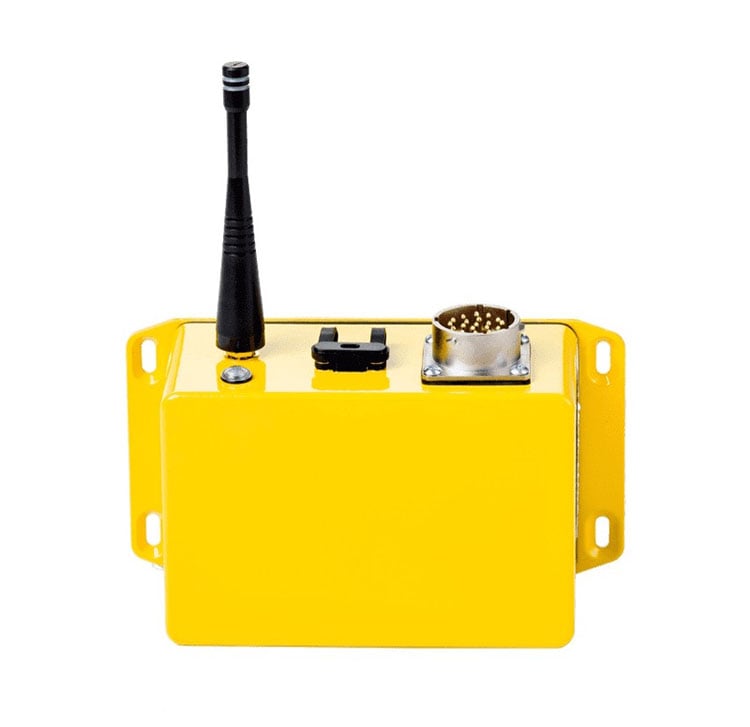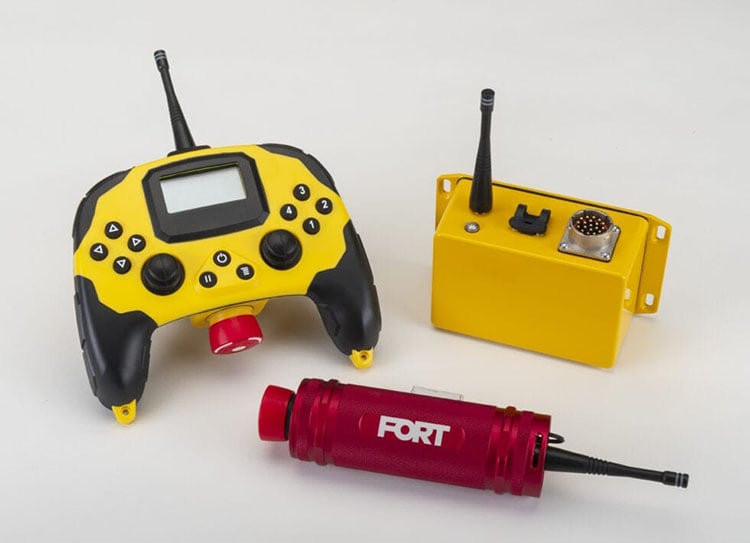 The on-machine VSC pairs with FORT's Safe Remote Control and/or Wireless E-Stop and acts as the receiver for those systems. With patented communication technology and industry-leading safety architecture, the VSC is built from the ground up for maximum reliability.
Patented wireless system for critical commands

Dual-wired emergency stop loop with active diagnostics

Master enable relays for e-stop circuit integration or direct load control

Internal master enable fault detection
The versatile VSC can be configured as an input, output, or bridge. As an e-stop input, it can be used to safely incorporate fixed e-stop buttons, door switches or other wired safety devices into your wireless network, allowing you to stop multiple machines with a single wireless command.
Use FORT's configuration tool to design your system and assign a care list of inputs to each VSC. Once paired, the units stay in constant two-way communication with one another, using rapid frequency hopping to avoid any risk of interference. The electrical safety loop circuit with diagnostics provides convenient integration.
Vehicle Safety Controller in Action
A leading producer of autonomous mobile robots (AMRs) needed a safety solution that could stop multiple robots moving around a warehouse. The right system would:
Stop multiple robots at once
Adhere to industry safety requirements
Be easy to use
Have a highly dependable wireless connection
The Solution: A wireless e-stopping system using the FORT Vehicle Safety Controller to improve safety and productivity around warehouse robots.
Two VSCs can be configured as a Wireless CAN Bus Bridge between any two CAN networks, including networks with different bitrates. Supports any CAN bus standard including CANopen and J1939. Ideal for forestry and other long-range outdoor applications.
900 Mhz radio: up to 2km line of sight range
2.4Ghz radio: up to 500m line of sight range
Designed to meet ISO 13849 PLd, Cat 3
IP66 (NEMA 4X) enclosure
Embedded versions also available
Power input: 9 to 36 VDC
Integration
Safety elements integrate via a dual channel electrical safety circuit.

Standard control elements and optional status information integrate via CAN J1939, RS-232, or USB.

Easy-to-use software tool for system configuration.
Sample applications available to help accelerate software development.
Connector Options
Ecomate RM for Power, Estop I/O, RS232, and CAN interfaces, Sealed Mini-USB AB, and RP-SMA antenna connector.
MIL-DTL-38999 19 pin for Power, Estop I/O, RS232, and CAN interfaces, MIL-DTL-38999 6 pin for USB, and RP-SMA antenna connector.
For more technical details, please contact us below.
Learn More
Speak with an expert for Vehicle Safety Controller pricing and information.