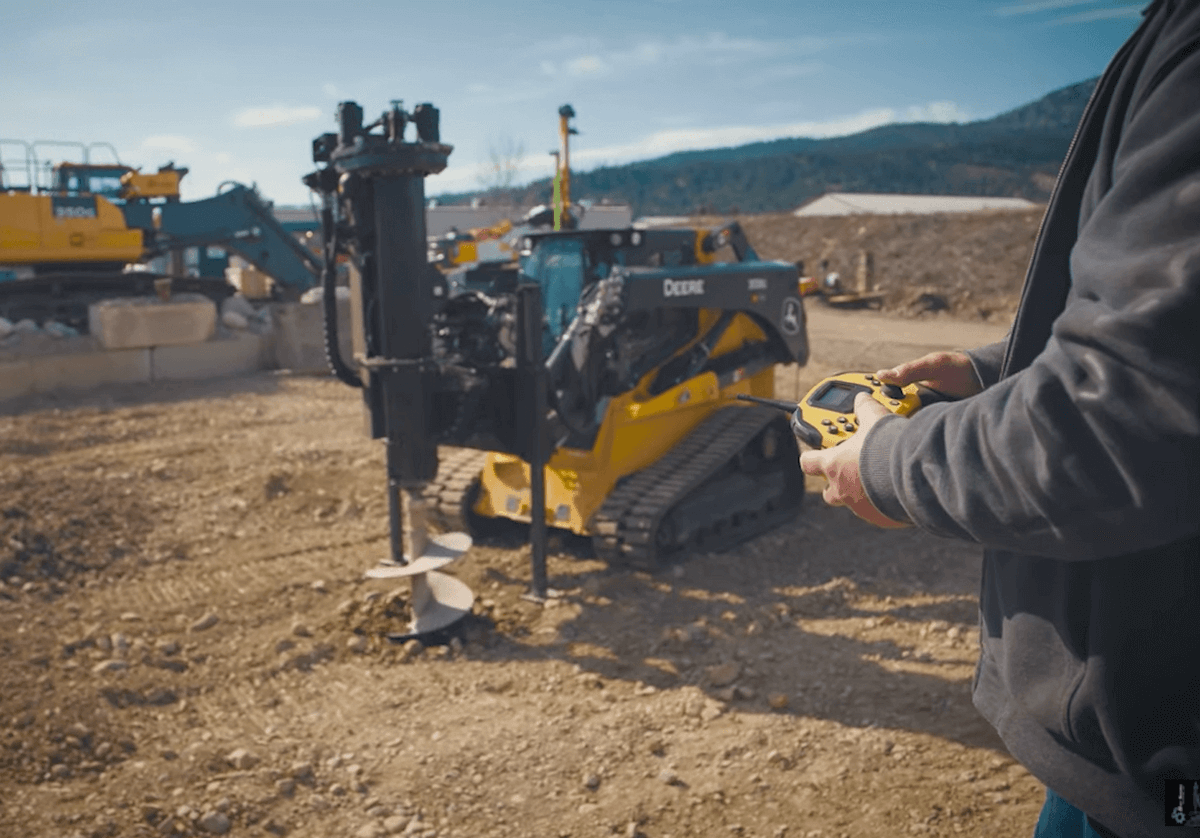 Case Study: Taking Control with Bay Shore's "Drill Sergeant" Attachment
Nov 19, 2021 | Construction, Remote Control
Bay Shore Systems, an Idaho-based manufacturer of custom engineered drilling rigs, gives its customers around the world the "extra advantage" by providing superior, reliable drills for extreme and conventional foundation drilling. Bay Shore's solutions serve specialty drilling contractors across a wide range of sectors from excavation and landscaping to public utilities and wind.
CHALLENGE
Bay Shore Systems, a leading provider of extreme and conventional foundation drilling solutions, was developing a new specialty drill attachment system for compact track loaders and skid steers. In addition to needing to control multiple hydraulic functions, a key requirement for "Drill Sergeant" was that the attachment needed to work without making any modifications to the carrier machine.
The engineers at Bay Shore were familiar with traditional remote control systems, such as "belly box" controllers or crane controls, but wanted to look for alternatives because the form factor of run-of-the-mill remote controls was too big and bulky. Their search led them to FORT.
SOLUTION
FORT offered a smaller, more ergonomic remote control with better integrated safety functions like wireless e-stopping. The drop detection feature protects operators and spotters by instantly stopping the machine if the remote is dropped. The FORT remote control is also rechargeable and can be used during charging which means that operators won't be faced with downtime if the remote needs to charge. For ease of use, a game-style design makes the FORT remote intuitive for equipment operators to learn and operate.
The FORT system only requires a 12V source and the standard auxiliary hydraulics on the carrier to work. The easy integration allowed Bay Shore to achieve its goal of creating a drilling attachment that was a true attachment without modifying the carrier machine. This makes the Drill Sergeant easier to adopt because it can be attached to any carrier without significant custom engineering time.
IMPACT
Drill Sergeant launched at the Utility Expo in late September to a great response. Its remote control system has been very well received by Bay Shore customers, who have found the remote to be solid, ergonomic, and easy to use. The remote control provides users with the added benefit of flexible operation from inside or outside the vehicle. A spotter can control the drill from a safe position which may give them better visibility to the hole than the operator inside the cab. This helps Drill Sergeant users maximize safety and productivity for their drilling projects.
Bay Shore's customers speak for themselves in this video of Drill Sergeant user feedback. You can see the FORT remote control in action and hear customer responses starting at 1:43.