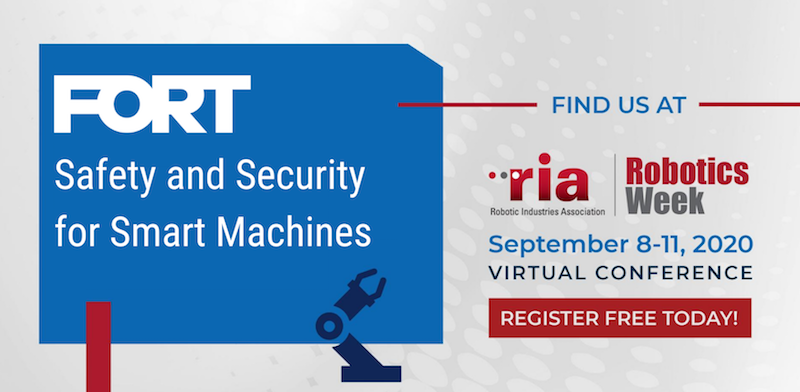 Join FORT at RIA Robotics Week
Sep 2, 2020 | Events
FORT is excited to be participating in RIA's Robotics Week virtual conference! The free event will take place next wek, September 8-11 and includes keynotes, workshops, and a glimpse into the latest technology from automation and robotics leaders.
Visit our Virtual Booth to set up a meeting and learn about the latest technologies from FORT. We'll be discussing solutions for machine safety and control in manufacturing, warehousing, construction, and any application where machines and people work in close proximity. Stop by with your questions about questions about:
Functional Safety
ICS Security
Robotic Safety Standards
Whatever your safety challenges, the expert team at FORT is here to help you make the transition to autonomy without sacrificing productivity or safety.
Indoor or outdoor, mobile or fixed, companies across nearly every industry are introducing autonomous systems into their environments. These advances improve efficiency and productivity, but also add new and complex safety standards and security challenges.
FORT provides safety and security solutions for smart machines. Our platform offers flexible components and cloud-based software to enable wireless safety-rated e-stopping and control for machines in any industry, on any network. Reduce risk, mitigate threats, and ensure that humans stay in control.
We hope to see you on the virtual trade show floor!
Don't miss our next event!
Join our mailing list for occasional updates, videos, and tips on machine safety and security.