View All Blog Posts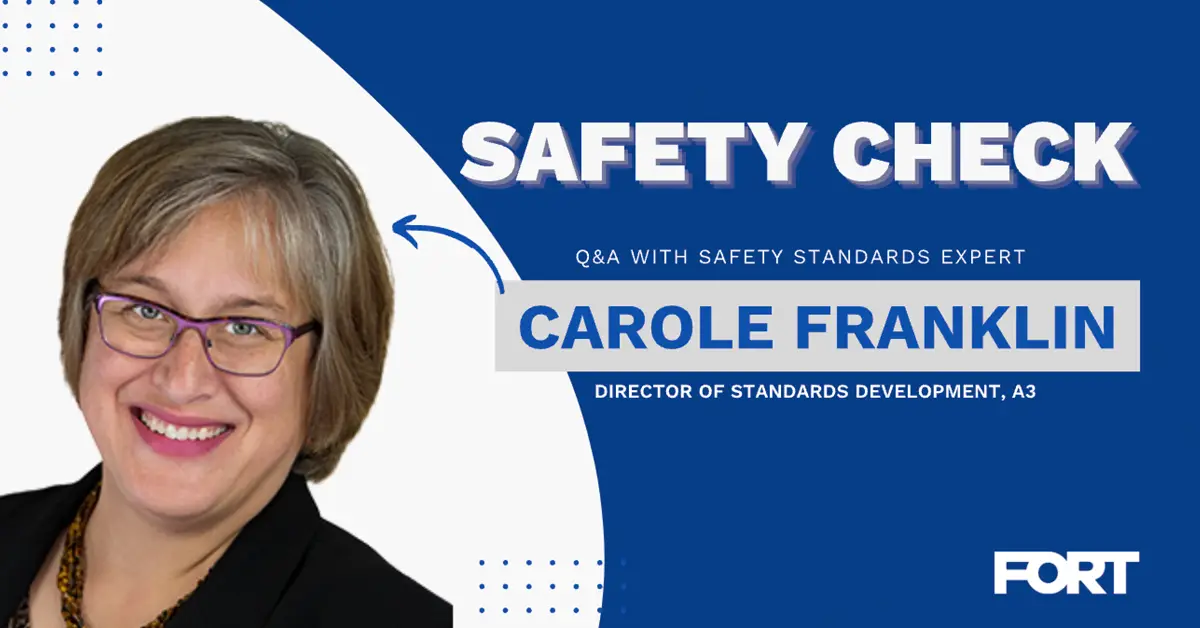 FORT talks with safety standards expert, Carole Franklin of A3,

on why safety standards are more important than ever and what companies often miss about robot safety compliance.
Safety standards are crucial for safety frameworks, and, as Carole Franklin so perfectly summarizes, it's better to begin with safety standards and functional safety in mind before designing autonomous machines.
With more and more industries adopting robotic systems to provide greater efficiency and productivity to construction worksites, warehouses, and real-world scenarios, the need for safety standards is magnified.
Carole Franklin, Director of Standards Development at the Association For Advancing Automation (also known as A3,) gives an in-depth look at why safety standards are so important to the ever-advancing automation space and what designers, engineers, and CTOs are missing when it comes to robot system safety and compliance.
---
Q: Tell us a bit about the history of A3 and your team's role in the organization.
At A3, our robotics standards efforts are primarily conducted within the ANSI and ISO frameworks. For over 40 years, we have historically been deeply concerned with safety for industrial robotics.
In 1982, we created the first ANSI committee to develop a standard for industrial robot safety; the first edition of the R15.06 standard was published in 1986. We have continued to publish updated editions of the R15.06 in the 40 years since then.
In the early 2000s, we were instrumental in taking the R15.06 safety requirements into the ISO world, with the 1999 edition of R15.06 serving as the starting point for the development of the ISO 10218 series of safety standards for industrial robots. R15.06-2012, the current edition, is a U.S. national adoption of ISO 10218-2011.
This means that R1506 and 10218 contain this same state-of-the-art knowledge, and this is also consistent with other 10218-based national standards used worldwide.
Our role at A3 is to provide leadership, coordination, communication, and education for robot standards, and safety standards in particular.
We organize our ANSI committees according to ANSI's rules for balance, transparency, and fair access. We also administer the U.S. participation in ISO Technical Committee (TC) 299, Robotics, and its Working Groups (WGs). ISO TC 299/ WG 3 is the group that produces the 10218 series and other industrial robot safety documents. We serve as the Secretary of that group.
We also connect with our colleagues in other standards frameworks, such as UL and ASTM, and related ANSI and ISO standards on the safety of machinery, such as ANSI B11 and ISO TC 199.
And finally, we contribute to education about this topic by being deeply involved in recruiting speakers and developing the agenda for the annual International Robot Safety Conference (IRSC).
The goal of this conference is to educate users of robotics about safety requirements. In other words, IRSC is about unpacking the contents of our safety standards 10218 (R15.06) and R15.08. Most of the speakers are recognized safety experts who serve on our safety standards committees, explaining the standards that they helped write. Sometimes our colleagues from other safety standards groups provide updates on their standards as well.
For more information on the upcoming International Robot Safety Conference, visit our website and be sure to check there frequently for more information about this event.
Q: What are some key considerations that machine designers, developers, engineers, and even CTOs need to keep in mind when it comes to safety and compliance?
It's better to design in safety from the start, rather than try to tack on safety features to an otherwise-completed design, or worse, apply a fix to an existing system after someone was injured. That's why we encourage all integrators to design in compliance with R15.06 right from the earliest stages of a project.
Do your risk assessment early and often. Risk assessment should be a standard part of your design process. And risk assessment should also be an interactive activity, with repeated cycles throughout the design and installation process. And, by the way, risk assessment is a requirement for compliance with R15.06.
If you're new to risk assessment, we can help you there as well. We have published a Technical Report (TR) describing one risk assessment methodology that meets the needs of R15.06. This is the RIA TR R15.306-2016, or "TR 306" for short.
Q: Do you think robot safety is overlooked and under-appreciated?
I would say, rather, that people are simply not aware that we have these resources to help you improve the safety of your robot system. And this being the case, I want to thank FORT for this opportunity to get the word out!
Let's start by stating the obvious: Users of industrial robot systems are generally using them to increase the productivity of their operations. And this means that robot users have employees, and their employees are using the robot systems to complete their work.
Another way of saying this is that employees of robot users are exposed to the hazards of the robot system, whatever those might be.
The bottom line in the U.S. is, OSHA's General Duty Clause places the responsibility on employers to provide a safe working environment for their employees.
In other words, for robot users, if you use an industrial robot system, you need to be confident that your workers are safe around that robot system.
OSHA says that's your responsibility, robot users. But guess what? We can help you achieve this!
At A3, our committees of experts have collected the best practices for reducing the risks to workers exposed to the hazards of industrial robot systems, and we've written them down in one convenient package: the ANSI standard R15.06 for industrial robot manipulators.
So, one way to be confident that you have adequately reduced the hazards of the robot system so that your workers are safe around your robot system – in my view, of course, the best way! – is to ensure that your integrator complied with the latest edition of R15.06. And integrators, if you are confident that you can provide an R15.06-compliant robot system, you can use that as a selling point to differentiate your services in the eyes of your client.
Now I've gone on about R15.06, and this is the safety standard for fixed-in-place industrial robot manipulators or arms. We recently introduced a new standard, R15.08, to collect a similar set of requirements for the safety of mobile robots used in an industrial setting.
Q: Why are standards are so important for the robotics industry?
Voluntary industry standards of the type I've been talking about are developed by a committee of experts on a given topic, coming together and agreeing on what rules we'll all live by for that topic.
We write those rules down, discuss and debate potential updates or improvements to them, and the end result is the voluntary industry standard on that topic. And taking the ANSI framework as an example, there are also rules for how these committees of experts conduct their work; the goal being that a broad range of interests have a place at the table and have a fair chance to make their voices heard.
In the committees A3 administers, those interest categories include producers of robots, integrators of robot systems, suppliers to the robotics industry, users of robots, researchers of robotics, and so on. That means that a standard developed under the ANSI framework has satisfied all these interest groups that the resulting standard will meet their needs.
At a 30,000-foot view, the effort of developing voluntary industry standards is how participants in the free market show that they are capable of effective self-governance on a given topic. Of course, in our standards R15.06 and R15.08, that topic is 'safety of workers around robots in an industrial setting' – a crucial topic in my view. And the more we show a good-faith effort to follow the collected best practices in this area, the more our regulatory agencies can govern us with a lighter hand.
Q: Do you think A3, in partnership with federal bodies like OSHA and the CDC/NIOSH, will continue to "crack down" on safety and compliance for automated machines?
A3 does not actually have a role in compliance with safety requirements. Our task is to foster consensus among our committees of experts, leading to the publication of our safety standards.
However, what we do have is an official Alliance with OSHA and NIOSH. This Alliance is for the purpose of sharing information so that OSHA inspectors, NIOSH researchers, and industry members represented by A3, all have a shared understanding of safety requirements around robots in the workplace.
My impression is that OSHA, NIOSH, and A3 alike would all prefer to take a more proactive approach to safety, rather than 'cracking down' after the fact.
If OSHA is called in following an "incident" that involved industrial robots, this is not what anyone wants. What we want is to spread the knowledge of how to keep people safe around industrial robots so that there are no incidents for OSHA to investigate.
Q: Can you tell us more about your OSHA, CDC/NOSH, A3 Alliance, and the benefits of opting into your programs?
If your company is an A3 member, you can join our Alliance and help develop materials in partnership with our OSHA and NIOSH colleagues. One of our first achievements was to help update OSHA's webpage on robot safety. And one of our biggest achievements to date was to contribute to OSHA's update of the Technical Manual Chapter on Robotics. Currently, our group is putting the finishing touches on a set of training modules that convey the contents of the updated Technical Manual Chapter on Robotics.
I hope for the future that every integrator and user of industrial robots in the U.S. know our safety standards R15.06 and R15.08 and uses them to keep workers safe around robots.
To get involved in the Alliance, send an email to Carole, cfranklin@automate.org or her colleague Maren Roush, mroush@automate.org.
Safety Check is an ongoing Q&A series with experts in robot safety, standards, and more.
If navigating the world of safety standards and risk assessment is putting a strain on your time and resources, it may be time to bring in an expert. Our new FORTified Autonomous System Services can help streamline the process of developing safety-compliant machines.