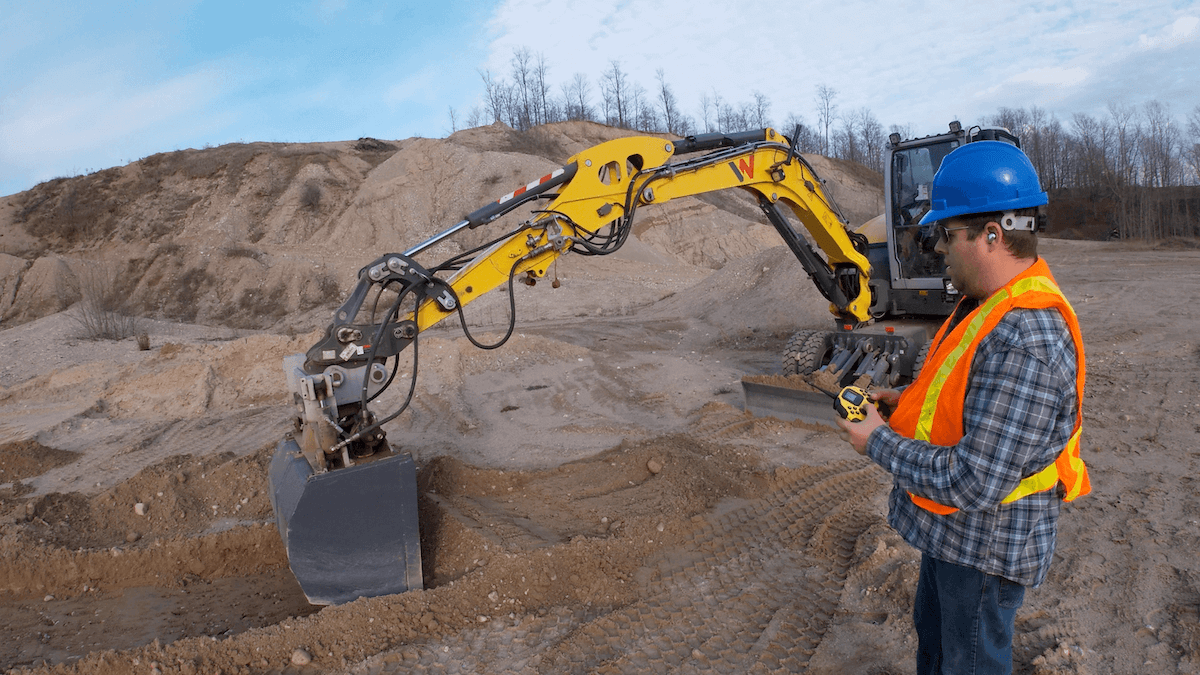 Ways to Make Your Next Excavation Job Safer and More Efficient
Aug 3, 2021 | Blog Post, Construction, Remote Control
Worker health and safety, higher project costs, labor shortages, and extended project timelines are top of mind for construction business owners. Today, advancements in construction technology, including automated equipment, are helping business owners address some of their common challenges. For many, automation is overwhelming or simply unfamiliar which makes it difficult to get started. But according to research from the Construction Institute, "technology can improve construction industry productivity by 30-45%, as well as improve material predictability and reliability." So taking on the challenge of automation now can mean big things for your ROI later.
Remote Machine Control in Construction
A great first step towards a safer, more productive jobsite is to automate tasks like excavation. Using automatic machine control with a remote keeps the operator in control and gets the job done efficiently. Below are three reasons why automation and remote control should be considered for your next big dig.
Improves Operator Visibility While Maintaining All In-Cab Functionality
Operators inside of the small excavator often have limited visibility. In fact, most job hazard analysis forms require equipment operators to use a flagger when there is an obstructed view to the rear. By using a remote control with a wireless e-stop, operators can get out of the cab to see what they are digging. This new view helps operators to see behind the bucket and over the bucket enabling them to complete the job effectively the first time, possibly eliminating the need for a flagger or spotter. Oftentimes operators don't like the thought of using a remote because they fear they will lose key functionality. But a well-designed motion control system with a remote control can operate every aspect of the normal controls including all attachments, thumb grapples, stabilizers and acceleration. This allows the operator to complete the task as if he or she were sitting inside the cab.
Reduces Operator Injury Risk
The natural landscape of a construction site is rough and the operator sitting in a cab can easily get beat up due to the rugged terrain. On occasion, an equipment operator will need to exit the cab to get a better view of the project. Getting in and out of the cab may not sound challenging, but it's tough on the body. Cabs can be high off the ground and a fall could lead to broken bones. Using task automation with remote control like FORT's Safe Remote Control enables the operator to spend less time entering and exiting the cab thereby reducing risk of potential injury.
Helps Address Labor Shortage
According to a survey by Associated General Contractors of America (AGC), 72% of general contractors believe labor shortage will be their biggest hurdle in 2021. Using an excavator with remote control gives the operator more flexibility when it comes to digging. A remote control can potentially eliminate the need for a spotter therefore improving the jobsite safety while reducing labor costs.
Although historically the construction industry has been cautious about adopting automation and technology, there are small steps that can be taken to get started. Using remote machine control to operate certain aspects of your next job can reduce risk and increase profitability. Contact us today to learn more about how we can help.